Deluxe listings are in order of their start date to reward loyalty - especially those that have been with us for many years! If you are looking for a specific deluxe listing, click the name below to jump directly to that deluxe listing. Please look below the deluxe listings for our free listings in alphabetical order.
[Carismatic Persians] [Dreamquete] [Koontyme Maine Coon Cattery]
Carismatic Persians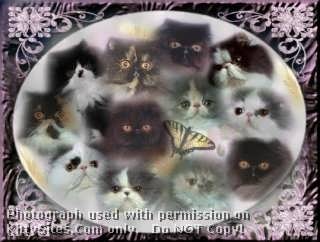 Carismatic Persians is a PKD DNA tested cattery located in central Indiana. I've been breeding and showing since 1989 when I fell in love with these sweet little kitties. Occasionally breeding Bi-color and solid Persians only and having a few retired breeder and show kitties available to forever loving homes. Please take a tour of my website and contact me if interested in any of my kitties.
317-834-8283
E-mail:
jocelynsmithers@comcast.net
Website:
http://carismaticpersians.com
[Deluxe Listing Started 2/19/2006]
Koontyme Maine Coon Cattery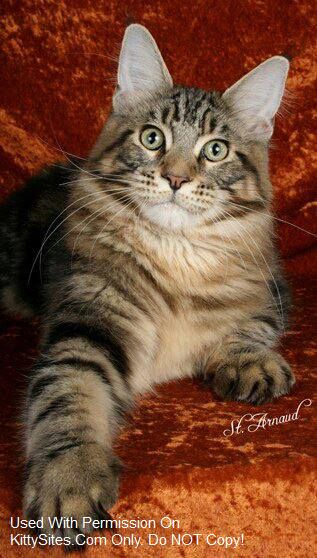 Koontyme specializes in kittens with color! We love reds, solids, calicos, etc. but we also have the more traditional brown tabby kittens too! Many of our lines are from GC, RW and DM ancestry! Our primary focus is on health and temperament! Kittens always sold with a sales contract and a health guarantee. We do have kittens available and ready for new homes NOW! Feel free to contact us with any questions you may have! Visits are allowed by appointment only!
Dawn Hunt- Breeder/Owner
765-342-5692
E-mail:
mainecoons.koontyme@yahoo.com
Website:
http://www.koontyme.com
[Deluxe Listing Started 10/1/2008]
Dreamquete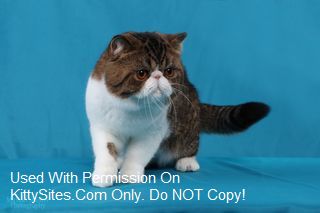 Small, in home cattery, located in Northwest,IN devoted to excellence. Babies are raised in my home, underfoot, for maximum socialization. Home of TICA 2010 International Winner, Regional Winner, Supreme Grand Champion, Sunsoar Jollymon of Dreamquete--named Best Cat 41 times in 10 shows! Show and breeder kittens available to approved programs. Kittens available to excellent pet homes as well. We do ship in the Continental U.S. PKD negative, fungus-free cattery.
219-663-3169
E-mail:
dreamquete@yahoo.com
Website:
http://www.dreamquete.com
[Deluxe Listing Started 5/8/2009]
Get A Deluxe Listing!
Upgrade your free listing for only $30/year. For more information or to sign up, click
here
.
Cameo Gems Siamese Kittens
- Cameo Gems Siamese Kittens for Sale
Carismatic Persians
- Bi-color & solid Persian cats and kittens
Dream Heart Persians
- I take great pride in breeding the exquisite Dearheart Silver Persian Bloodline used in the newest Fancy Feast commercials.
Dreamquete
- Dreamquete Exotics, Persians, and the occasional Himalayan
Exotic Beauties Bengals
- Our Mission To breed high quality healthy Bengal kittens with exceptional color and contrast, large
Ivy Cat
- We are CFA registered cattery. Our lines are DNA/PKD negative, we offer beautiful, healthy kittens.
J-Sphynx Cattery
- We are a small cattery in Southern Indiana. Our cats are TICA/CFA registered. We are all about quality.
Maramae Sphynx
- Loving kittens, home raised, well socialized, and health guarantee.
Occult Cattery
- Occult Cattery has one of the hottest breeding programs lifting it to the next step in evolution.
Oxsana Siberians
- Beautiful, affectionate, hypoallergenic, colorpoint kittens.
Ozark Mountain Savannahs
- Small in home cattery in west central Indiana close to I-70. Have F4 F5 F6 cats and kittens.
Patlen
- Cattery of Distinction, breeding Exotic Shorthair and Persians for show and pet.
Purwaky Cattery
- Information about Napoleon, Munchkin, Exotic Shorthair cats. About my cats, my cattery and location.
Savoirfairebengals.com
- A Savoir Faire bengal is guaranteed to be healthy and well socialized. We offer the ultimate combination of type and temperament.
Silver Persians and Himalayans
- CFA registered cattery offering the beautiful silver Persian and Himalayan
STORMSHELTER Maine Coons
- We are a small Maine Coon Breeder located in Southern Indiana raising healthy and beatiful MCkittens
The Purrfect Place
- CFA registered Himalayan and Persian kittens! Specializing in Chocolate and Lilac's.
TheDollHouse Ragdoll Cats
- Beautiful, loving, floppy ragdolls. Raised in small closed home cattery. TICA Reg. Health guarantee.
TimberBend
- For Outstanding Health, Temperaments and Natural Beauty, choose TimberBend Siberians.