Deluxe listings are in order of their start date to reward loyalty - especially those that have been with us for many years! If you are looking for a specific deluxe listing, click the name below to jump directly to that deluxe listing. Please look below the deluxe listings for our free listings in alphabetical order.
[Bengalbeauty] [Oxsana Siberians]
Oxsana Siberians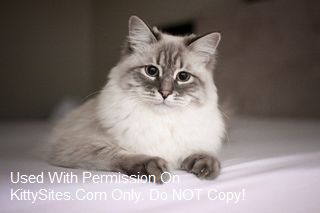 Beautiful, affectionate, hypoallergenic, colorpoint siberian kittens.
Prices include registration, age appropriate immunizations and spaying/neutering.
Raised in a midwestern family enviroment that is committed to healthy quality kittens that have great personalities.
Oxsana Siberians is located in the Midwest. 618-322-4761
Additional Email: kittens@oxsanasiberians.com
E-mail:
oxsanasiberians@midwest.net
Website:
http://www.oxsanasiberians.com
[Deluxe Listing Started 3/5/2007]
Bengalbeauty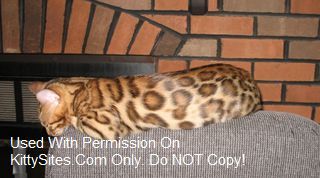 We breed Bengals from the best blood lines. Our Bengals are glittered and pelted. We have browns, snows, and silvers in both marbled and spotted. Raised in our home with all ages and our dog. We are a TICA registered cattery and members of three international clubs. Pictures of our Bengals and some of my writings have been published in the clubs magazines. Our kittens are using the litter box and checked by our vet before they go to their loving families. Our queens and kitten are never caged or penned and have free run of our home. Have a leopard for your home! We are in Independence, MO.
Call us at 816 252 9126
E-mail:
8158@prodigy.net
Website:
http://www.bengalbeauty.com
[Deluxe Listing Started 1/19/2011]
Get A Deluxe Listing!
Upgrade your free listing for only $30/year. For more information or to sign up, click
here
.
Angel Pride Ragdolls
- Beautiful ragdoll kittens raised with individual love and attention, located in Bothell, WA.
Basskat
- Working towards Purr-fection for over 2 decades
Bengalbeauty
Cheravels.com
- Cheravels Persians
Christypaw Persians
- Gorgeous, spoiled rotten babies persian babies for sale
Daphne's Dolls
- Doll Faced Persians and Himalayans - CFA Reg. Specializing in Silvers and Goldens. Health Guarantee
Doll Face Persian Kittens
- The cattery that proves.angels ARE among us!
Doll Face Persian Kittens
- Home of the Dollfaced Persians & Himlayans since 1989. TCCI Supreme Cattery & State Licensed Cattery
Fluffies R Us
- We raise our kittens under our feet and on our shoulders
Jamillasphynx Cats
- Being a small cattery located in Springfield MO, we take pride in raising high quality Sphynx Cats.
Lamour Cattery
- We are a small cattery located in St.Louis. Please visit our website to view our beloved kitten.
Miniature Persian Kittens for Sale
- Specializing in heart-warming Teacup Persian & Himalayan kittens
Oxsana Siberians
- Beautiful, affectionate, hypoallergenic, colorpoint kittens.
Ozark Cornish Rex
- Small cattery located in Ozark, MO - Near Springfield/Branson
Perfect Kittens
- State inspected & Licensed Cattery breeding Wonderful,loving & loyal companions
Persian Kittens For Sale
- We have teacup Persian kittens for sale as well as Himalayan kittens.
Rasui Bengals
- Rasui Bengals, home of Triple Grand Champion Rasui Azizi. Bengal kittens for sale year round in MO.
Slava Siberians
- Experience the joy of owning a beautiful, affectionate Siberian kitten from Slava Siberians.
South House Bengals
- Home raised kittens bred for temperament, pattern and type.
The Chirpy Cats
- We are a small family cattery located in Kansas City, MO USA. Registered with CFA