Featured Listing(s):

Welcome to KittySites.Com!

I hope you enjoy your visit.

If you have any questions or comments, feel free to contact me.

If you'd like to be added to the directory, please visit the 'Get Listed' page.

Use the menus up above or the links down below to explore the site!

~~ Mary


Directories
[Cat Breeders] [Rescue/Shelters]
[Cat Sitting] [Cat Boarding] [Grooming] [Training] [Breed Specific Information] [Miscellaneous/General Info] [Cat Clubs] [Veterinary Clinics] [Cat Health Products] [Supplies] [Art] [Gifts] [Food/Treats] [Furniture] [Fashion/Apparel] [Identification] [Memorials] [Other Product] [Photography] [Waste Removal] [Travel] [Other Service] [Blogs ] [Personal Pages] [Website Design] [Classifieds/Directories]

Doll Face Persian Kittens
Offering three decades of knowledgeable expertise in the elite Baby Doll Face Persian Kitten industry. While many of our kitties have worked their way into movies, commercials, and countless magazines we primarily seek out loving forever pet homes. Rated A+ with the Better Business Bureau.
Kittens available now!
Check them out on our website.
Sister Team: Tegan & Trisha Johnson
660-292-2222
Located in northern Missouri
Email: dollfacepersiankittens@gmail.com
Website: http://dollfacepersiankittens.com
Cute Cat Collars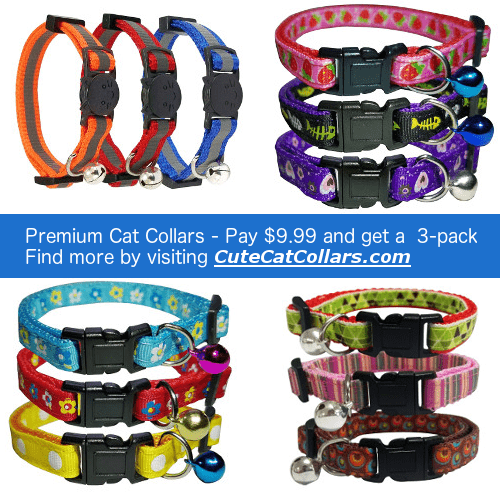 Get a 3-pack cute cat collars for just $9.99 from the Cute Cat Collars website.
Website: http://cutecatcollars.com
Advertise on our main page! Contact Mary for availability and more information!