Featured Deluxe Listing(s):
Washington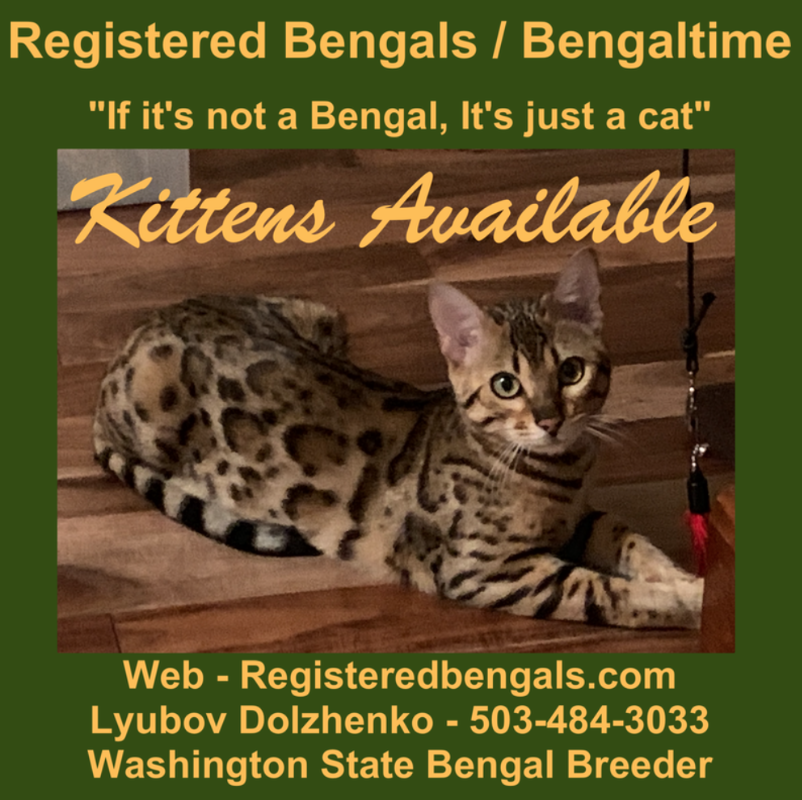 We are Registered Bengals / Bengaltime. We are located minutes North of Portland, Oregon and driving distance from Seattle, Washington. Our imported lines from Russia offer genetic diversity. We screen our breeders for health and genetic issues and update HCM screening annually. Our kittens are started on a partial RAW diet and also introduced to Royal Canin kibble and canned foods so that they will transition well to any home. We are a cage free Breeder, focused on producing the best of the Bengal breed.
Our selection process focuses on temperament just as much as looks. All kittens are raised in our home and socialized with our children and other cats. Our goal is to provide great living room leopards. Our kittens come litter box trained, used to being handled, allowing nail trimming and ear cleaning. We introduce water at a young age and most of our kittens enjoy playing in water occasionally.
Our Primary Stud Sascha does not spray so we are able to keep him in our home with us as well. This is VERY rare in a breeding Bengal! Sascha is one of a kind with a great personality.
You can contact us at Registeredbengals@outlook.com – Lyubov Dolzhenko.
Oregon / Washington Bengal Breeders.
"If it's not a Bengal, It's Just a Cat"
We offer shipping. Contact us to discuss purchase and delivery
options!
Facebook – https://www.facebook.com/RegisteredBengals
Youtube- https://www.youtube.com/channel/UCNP8nmW9urck7XIw3e6XLzQ
Phone – 503-484-3033 – Lyubov Dolzhenko
E-mail: Registeredbengals@outlook.com
Website: https://registeredbengals.com

[Deluxe Listing Started 7/9/2019] [Deluxe Listing Updated 7/9/2019]

Advertising Opportunity!

This featured deluxe listing location is available! Only $24.99/month for great exposure on your breed's main page! Discounts are given to those paying for more than 6 months in advance. For more information or to get started, contact me for availability or payment information.
-OR-
Bengal Breeders By Location:
(If a location isn't listed, no listings have been submitted for that location yet)