Cat Breeders
Canada - Alberta
Deluxe listings are in order of their start date to reward loyalty - especially those that have been with us for many years! If you are looking for a specific deluxe listing, click the name below to jump directly to that deluxe listing. Please look below the deluxe listings for our free listings in alphabetical order.
[Gentle Bubbles Ragdolls] [Oceanpurrls BiColor & Solid White Persians] [Purring Angels Ragdolls]
Oceanpurrls BiColor & Solid White Persians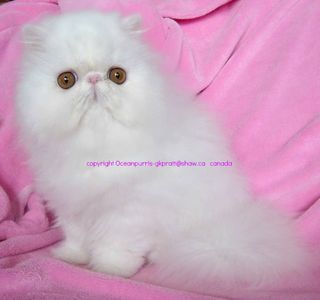 OceanPurrls Pig Pig - Solid White Show Persian
EXCEPTIONAL TOP QUALITY BEAUTIFUL LUXURIOUS , HEALTHY , Pedigreed pure Persian kittens from prestigious show lines. Available exclusivley and only found here at OceanPurrls Persians , Professional registered breeder since 1989 .
We our known worldwide for the Sweetest looks & Dispositions on our Persians.
All our Persians at this time are CFA Grand Champion sired, all are raised underfoot in our home , not in cages, All prespoiled and pampered . Specializing in SHOW quality Persians, show ,breeder & Pet persian kittens available
Karen Pratt
403-948-3697
E-mail:
gkpratt@telus.net
Website:
http://www.freewebs.com/oceanpurrlscattery/
[Deluxe Listing Started 3/4/2005]
Purring Angels Ragdolls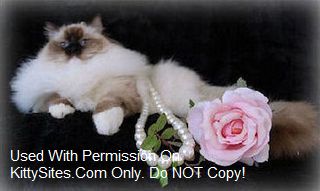 Purring Angels is TICA Registered
We are dedicated to raising healthy, loving ragdolls. Our ragdolls are raised as part of the family, and have free roam of our house.
We are proud to offer
Lilacs, Creams,Seals,Chocolates,and Blues.
Our kittens can come in these patterns.
Colorpoints,Mitted,Blazes,Bi-color,and torties.
You can contact Judy at 780-795-2581
E-mail:
purringangels@yahoo.ca
Website:
http://purringangelsragdolls.ca
[Deluxe Listing Started 9/15/2008]
Gentle Bubbles Ragdolls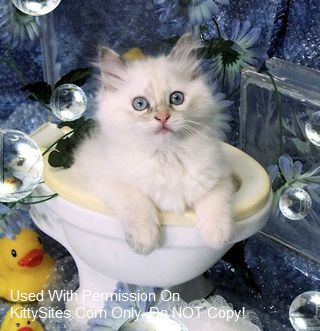 I run a small closed TCA registered Ragdoll Cattery in Medicine Hat Alberta.
Wanda Berge
r 403-528-3049
E-mail:
gentlebubbles@telus.net
Website:
http://gentlebubblesragdolls.ca/
[Deluxe Listing Started 9/23/2010]
Get A Deluxe Listing!
Upgrade your free listing for only $30/year. For more information or to sign up, click
here
.
Angel Eyes Cattery
- This is a cageless cattery where kittens are raised "underfoot" with loving care and affection.
Catcurl LaPerms
- We raise and exhibit LaPerms in central Alberta. Come view pictures and information on our website
Lissys Ragdolls
- Breeding beautiful ragdolls with incredible temperments. Family raised and TICA registered.
MikaSu Birmans
- Committed to raising healthy, well socialized Birmans. Home of International and Regional winners.
Purriwinkle Somalis
- At Purriwinkle Somalis we breed for health and temperment. Breeding cats have been health and genetic tested before entering our breedeing program.
Rainbow Ragdolls
- Small Ragdoll cattery located near Edmonton, Alberta. Breeding for health and tempermant.
Ranchinragz
- We are a small registered breeder of TICA registered Purebred Ragdolls kittens.
Ranchinragz Ragdolls
Rock N Ragz Ragdolls
- Ragdoll cats and kittens of RockNRaz Ragdolls Cattery a ragdoll breeder located in Alberta, Canada
Vividcats Bengals
- Vividcats HCM tests every year, PK Def tests, and parasite free. Specializing in brown, snow and charcoal bengals.
Wildforest Bengals
- Beautiful Bengal Kittens TICA Registered
Wildrose Bengals
- We are a small in-home cattery producing gorgeous TICA reg'd rosetted Bengal kittens in Edmonton AB.