Fazio's Cat Jewelry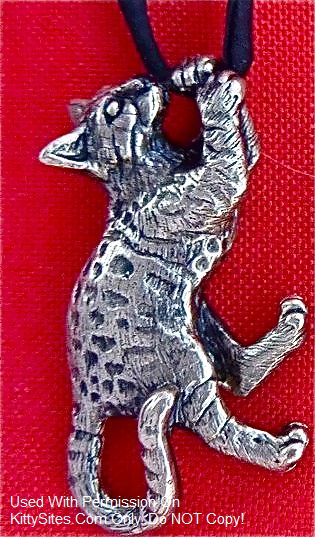 Cat Lovers dream gift...Cat jewelry like you have never seen. These are life like replicas in sterling silver or 14kt gold. Choose from charms, pendants, and earrings. Custom carved, individually cast and hand finished showing each tiny detail. Sphynx Cats, Bengal Cats, Maine Coon Cats, Serval Cats, Savannah Cats and adding more every week. Limited availability
E-mail:
kay@fazioscatjewelry.com
Website:
http://www.fazioscatjewelry.com
[Deluxe Listing Started 11/6/2010]
Georgia's Gifts for Cat Lovers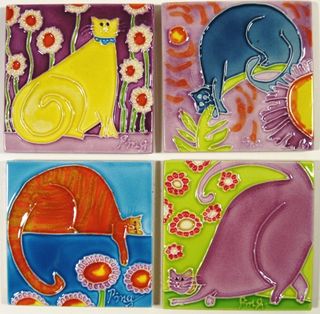 We offer whimsical, unique gifts, home/garden décor and fashion accessories for cat lovers. Featuring Whimsiclay Ceramic & Plush Cats, Laurel Burch Cat Handbags & Scarves and Bungalow 360 Cat Bags. Gifts for every occasion & budget include ceramic cat tiles, kitchen decor, miniature porcelain cats, cat flags and much more. Secure ordering & fast shipping. We accept major credit cards, checks and paypal. We invite you to visit our website and also join us on facebook.
E-mail:
info@georgiasgifts.com
Website:
http://www.georgiasgifts.com
[Deluxe Listing Started 5/29/2012]
Get A Deluxe Listing!
Upgrade your free listing for only $30/year. For more information or to sign up, click
here
.
2 Smart Cats
- Handmade jewellery, accessories and gifts
A Pet's Life®
- A PET'S LIFE® offers an extensive line of high quality gifts for pets and pet families
angelsafootdesigns.com
- Original Cat artwork of Victorian Cat Designs, Available on T Shirts, Totes, other gifts items
Austin Originals
- Original design handcrafted whimsical and fine art creations, many one of a kinds. Fun stuff!
Bisket Baskets And More
- Tailored gift baskets for any occasion. Your gift is designed after the order is placed to ensure the freshest gift possible and a personal touch.
Cat and Caboodle.com
- Wonderful, fun & unique cat collectibles & gifts for the cat-lover. Free gift wrap.
Cat Decals
- Amazing selection of cat decals and stickers.
Cat Throw Pillows
- Cat throw pillows for humans and their feline friends. Large selection of colors, sizes and prices.
CentralCrafts
- Home of the world famous Blue Witch ceramics including a unique range of handmade cat mugs!
Christmas Gifts for Her
- Great and unique Christmas presents for her, him.
Computer Cat
- Computer Cat Song, Songbook and teachrs Resource
Costume Jewellery UK
- Shop online cheap costume and Fashion Jewellery at whosale rate.
Fazio's Cat Jewelry
- Life like replica of the one you love Sterling or 14kt, amazing detail, worldwide shipping
Ferals Apparel
- Ferals Apparel features Cat T-Shirts, Bumper Stickers and other gifts that promote Feral Cats.
Gibby Cat
- The official Gibby Cat web site. Gibby Cat Lover T-shirts, mugs, greeting and other fun gifts.
Karens Kottage
- Visit Karens Kats at Karens Kottage for cat lovers gifts and accessories.
Kats'n Us
- Tube of Cat Toys! An assortment of kitty favorites sure to entertain any cat! Great gifts!
Limoges Box Collector
- Collectible Animals & Cat French Limoges Boxes, Highest Quality, Extensive Selection, Great Prices!
Limoges Collector
- Buy Collectible Cat French Limoges Boxes, Extensive Selection of Hand-Painted Porcelain Cat Gifts
Love My Cat/Love My Dog
- 1st Priority:End Animal Abuse! Gifts to give with pride, advocating to end animal cruelty and abuse!
Magic Mug Shop
- Magic Coffee Mugs, dark color when cool, pour in a warm drink and magically 3 kittens appear on mug!
meowbox
- The original monthly subscription box for cats, filled with fun unique toys and healthy goodies.
meowcoins.com
Miss Kate's Creations
- Handcrafted fabric covered photo albums, frames and brag books in every imaginable category.
Pampered Whiskers
- Pampered Whiskers 2009 Wall Calendar chronicles the adventures of three cats and a dog as they travel through the Emerald Isle.
Talk to the Paw
- Custom made gift baskets for cats & cat lovers
The Cat Gallery
- Quality gifts for cat lovers.
The Cats Diary
- The site is a compliment to the ebook 'Getting Out - Excerpts from a Cat's Diary.'
The Collector's Addition
- Unique Animal Collectibles & Gifts from All over the world! From Aardvarks to Zebras Ė and every dog breed you can think of! We ship WORLDWIDE!
The World Is Your Litter Box
- Now Available! The World Is Your Litter Box Deluxe Edition: A How-To Manual for Cats
Two Purring Cats Clothing & Gifts
- A large online superstore for art cards & gifts featuring cats, birds, horses, dogs, fish & more!
Who Loves Kitty?
- Who Loves Kitty is an online store for "cat people" featuring unique cat themed merchandise.
York Avenue Studio Tiny Kitty Silver Jewelry
- Adorable Tiny Kitty Silver Jewelry and Gemstone Gifts - Customized and Personalized - Free Shipping